Emergency Preparedness
2 months ago
are you prepared?
Being prepared can reduce fear, anxiety, and losses that accompany disasters.
Disasters, both natural and man-made, disrupt hundreds of thousands of lives every year. Each disaster has lasting effects, both to people and property. If a disaster occurs in your community, local government and disaster-relief organizations will try to help you, but you need to be ready as well. Local responders may not be able to reach you immediately, or they may need to focus their efforts elsewhere. It's important to be prepared and have a plan for any hazard that could arise in your community. You should be ready to be self-sufficient for at least three days. This may mean providing for your own shelter, first aid, food, water, and sanitation.
Being prepared can reduce fear, anxiety, and losses that accompany disasters, and we have assembled some tips to aid you in the process to becoming prepared.
WHy do i need to prepare?
Citizen Response
Every citizen in this country is part of a national emergency management system that is all about protection--protecting people and property from all types of hazards. Think of the national emergency management system as a pyramid with you, the citizen, forming the base of the structure. At this level, you have a responsibility to protect yourself and your family by knowing what to do before, during, and after an event.
The national emergency management system is built on shared responsibilities and active participation at all levels of the pyramid. The whole system begins with you, the citizen, and your ability to follow good emergency management practices— whether at home, work, or other locations.
Local Response
It is sometimes necessary to turn to others within the local community for help. The local level is the second tier of the pyramid, and is made up of paid employees and volunteers from the private and public sectors. These individuals are engaged in preventing emergencies from happening and in being prepared to respond if something does occur. Most emergencies are handled at the local level, which puts a tremendous responsibility on the community for taking care of its citizens.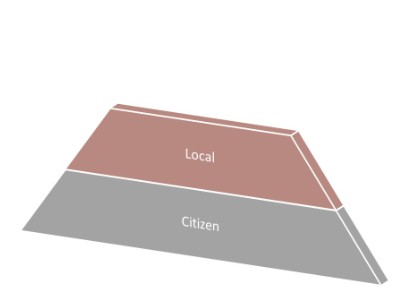 State Response
If support and resources are needed beyond what the local level can provide, the community can request assistance from the state. The state may be able to provide supplemental resources such as money, equipment, and personnel to close the gap between what is needed and what is available at the local level.

The state also coordinates the plans of the various jurisdictions so that activities do not interfere or conflict with each other. To ensure personnel know what to do and efforts are in agreement, the state may offer a program that provides jurisdictions the opportunity to train and exercise together.
Federal Response
At the top of the pyramid is the federal government, which can provide resources to augment state and local efforts. These resources can be in the form of:
Public educational materials that can be used to prepare the public for protecting itself from hazards

Financial grants for equipment, training, exercises, personnel, and programs.
Grants and loans to help communities respond to and recover from disasters so severe that the President of the United States has deemed them beyond state and local capabilities.

Research findings that can help reduce losses from disaster.

Technical assistance to help build stronger programs.
Make a Plan
Discuss and create a plan for how you will respond to emergencies that are most likely to happen where you live. Write it down. Share it. Practice, practice, practice.
Build a Kit
A disaster kit is essential n the event of a major disaster. Being prepared means having your own food, water, and supplies to last for several days. Consider unique needs your family may have.
Be Informed
Have multiple ways to receive important updates from officials before, during, and after emergencies--even when the power is out, or while you are sleeping.
Printable Emergency Supply List
If you are looking for a recommended list of supplies for your disaster kit, follow the link below.